Recognizing The Need For Change
This past week, American singer-songwriter Bob Dylan was awarded the Nobel Prize for Literature. An inspiration folk singer, Bob Dylan was actively creating & performing at a pivotal time in US history. Indeed, Dylan's verses have since been recognized for accurately and artfully reflecting those changing times.
Dylan's words are especially poignant when considering the current climate crisis. Ocean waters are now heating and rising as a consequence of global warming. As a result, people are also rising up to demand change.
Finger On the Pulse
Originally released in 1964, The Times They Are A-Changin' epitomized the social upheaval of the 60s. The song resonated with many, calling on listeners to awaken to the call for change. The lyrics, "If your time to you is worth savin' -Then you better start swimmin' -Or you'll sink like a stone, -For the times they are a-changin" -struck a chord (pun intended).
It also reflects the present need for our leaders to respond to the threat of climate change. We need to wake up to the damage we are causing our planet, or face the increasingly dire consequences. As described in the lyrics, we must learn to swim or risk drowning. It's pretty evident. If we don't "swim with the current" and respect the natural systems of the world, then people and cities will quite literally drown.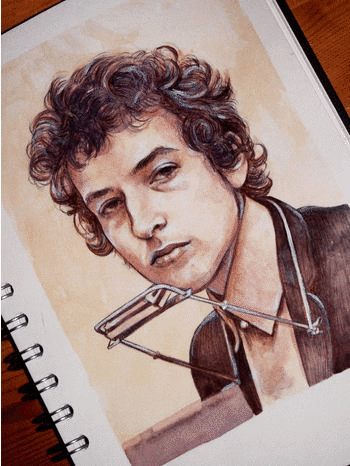 Depicting Dylan
The poet songwriter's message remains relevant and inspirational. We are still living through very turbulent times. The struggle is clearly immense. However, as Bob Dylan has demonstrated, the right words can help remind us of the continuity of such struggle.
Stories and music can help serve to connect us with the dissenters of the past. They highlight the importance of social activism & collective action. These connections can provide us with encouragement, strength, and motivation, as we strive to adapt to the change and protect our future.
As people once again take to the street calling for justice, equality, and action it might feel like times haven't really changed all that much. This time round however, the climate has. It's real, and it's dangerous. Clearly, the time has come for us to change too.