A Day To Remember
Our planet is truly spectacular! We would do well to feel this appreciation on a daily basis and recognize the beauty and awesomeness all around us. But life does have a way of flying by, as we get caught up in all that needs doing, planning and preparing. All the more reason to cherish Earth Day! Its springtime arrival coincides with the return of birds and blooms, highlighting the importance of all that nature does for us.
We shouldn't need an Earth Day. It should be apparent to all those who consciously inhabit the Earth, that we are here as a result of it. The Earth is our home, our life support, our nourishment, and our inspiration. It certainly needs to be treated as such.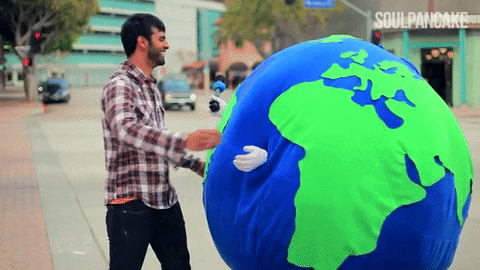 Valuing What Is Truly Important
Unfortunately, Earth Day's arrival also brings with it a lot of noise. There are tons of product promotions as companies scramble to emphasize their green credentials. Indeed, the entire Earth Week is loaded with copious amounts of greenwashing, as organizations try to tell us that they really do have the Earth at heart.
All the fakery can be pretty jading, but we must stay focused on the true meaning of Earth Day. Its modern origins stem from civil movements in the United States that fought back against industrial pollution and degradation. The first Earth Day back in 1970 was a feat of democracy. It emphasized the need for environmental protection and conservation. That first Earth Day rode the wave of human motivation, as people stepped up to demand environmental justice.
Sadly, we still very much need the same. Although some amazing achievements were made in the decades since (the Paris Climate Agreement for one), we are after all experiencing a climate emergency. Genuine climate action is sorely needed to pull us back from the brink.
Make Earth Day Your Own!
I woke up this morning intending to write an in-depth post. I had plans to once again lay into the actions needed to fight the climate crisis. Instead, I felt it was important to take this day to be outdoors. So I went for a walk with my kids, transplanted some plants out on the balcony (including a hefty Japanese palm), and seeded some herbs. It felt great to get my hands in some dirt as I worked on expanding our already considerable collection of greens. Spending the day outdoors, connecting with the soil and listening to the birds definitely does wonders for the soul.
It highlighted for me the need to ensure and encourage our own Earth Day traditions. Be it planting a tree, going on a hike, or offering to volunteer our time towards cleaning up our neighbourhood. There are plenty of ways to engage in Earth Day. In my mind at least, what's most important is simply appreciating nature and recognizing it for the extraordinary phenomenon it truly is. Tomorrow we can get back to the climate fight. Today should serve as a reminder of what we're fighting for.