Let me introduce you to Mako. He is a one year old Blue Heeler/Rottweiler rescue dog and he has been with me for three months.
Mako was rescued from Texas, where he and his brother were living on a farm. They couldn't stop chasing – read: eating – the chickens, so the farmer brought them to a local shelter. A Toronto-based rescue picked them up and brought them north at the end of December. I adopted him on January 31.
A Shelter Dog Reality
A not-so-fun fact: Texas has the grim distinction of being the number 2 state for kill-shelters. Surprisingly, California is number one. Of the three million dogs and cats euthanized across the US every year, the Humane Society estimates that 80% are healthy and adoptable. This number is absolutely heartbreaking.
We don't have the same kill-shelters in Canada, so the situation is different. 45% of dogs in Canada's shelter system get adopted. Another 28% are returned to their owners. And just over 8% are transferred to other organizations to help them find their "fur-ever" home.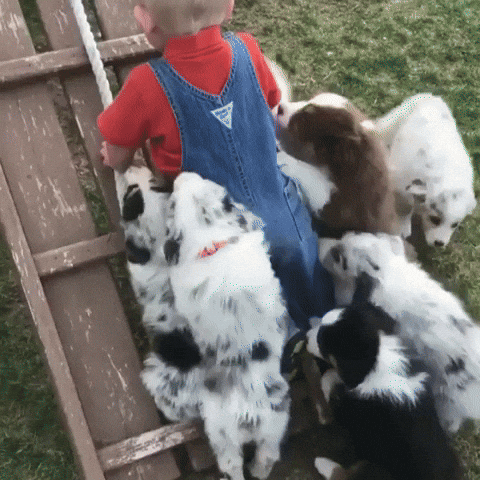 Adopting Sustainability
It's genuinely nuts that so many of these beautiful creatures are killed, and at a time when loneliness and mental health are coming to the forefront as serious public health issues. Clearly these lovable companions can help with that.
Instead, here in Canada approximately 10% of shelter dogs are still euthanized each year before they're able to find a home. Sometimes this is for health or behaviour problems. Sometimes it's just plain bad luck. Either way, it's sad.
It's hard to look into Mako's beautiful golden eyes, laugh at his silly crawls across the floor, and feel the love pouring out of his little body, realizing that he might not have made it out of the shelter alive.
If that's not an incentive to adopt a dog, I don't know what is.
Rescue Dog Rule of 3's
Despite our best intentions as Mako's new family, these first few months have been a rollercoaster. I was told to expect the 3-3-3 rule, but it's been an adjustment. The rule goes something like this: for the first three days, dogs may be feeling overwhelmed and scared as they adjust to their new home. This is totally natural.
At three weeks, dogs will get used to a routine and their personalities will begin to shine through. And at three months, dogs will realize they are "home." They will have (hopefully) formed a bond with you and included you as a member of their pack. I can say for sure that this is what's happened. He loves to follows me around, play, and pounce. Needless to say, I'm completely smitten with his goofy puppy ways.
The 3 Month Mark
This was an important milestone for us!
Deciding to get a dog is a big decision. Regardless of whether you choose to adopt or purchase from a breeder, it's a substantial commitment. After all, you are signing up to care for and love your dog for the rest of its life. Think of the vet bills, and the training, and the seemingly endless amounts of toys you can't stop buying because you just want them to have everything they could ever need (Or is that just me? No? Thought so.).
It's also a very personal decision. Choosing to adopt a grown rescue dog comes with its own set of challenges that you may not face with a new puppy. After all, rescue dogs have a past that we either don't know or will never fully understand. And working through some of these issues takes time and a whole lot of patience. You'll need to earn their trust and teach them the world is not always a scary place.
The Puppy Mill Problem
Choosing to adopt a rescue dog also means you are taking demand away from puppy mills and dog importers. Just last year, a flight carrying 500 puppies landed in Toronto, where they were destined to be sold by unethical breeders or in pet stores. The dogs arrived in bad shape, placed in containers wrapped in plastic, and 38 were dead on arrival. And that's just one example.
Puppy mills exist in Canada too. Unfortunately, most of the pet store dogs you see were likely raised in crowded, unsafe, and cruel conditions. Without careful research, buying a puppy can mean unintentionally supporting these horrible practices and dog exploitation.
Before I could adopt Mako, I had to go through a lengthy screening process. I had to fill out an application where I answered questions about my living situation, and how I would handle behavioural issues. I also had an interview with the rescue and did a home visit, so they could ensure it would be going to a safe home.
Only once these were approved could I begin the actual adoption process. Finding a dog that aligned with my lifestyle and goals was important to the rescue, to set both me and my future dog up for success. After all, dog rescues are in the business of rescuing – they want to see their dogs go on to live full healthy and happy lives.
Who Rescued Who?
Of course there are always going to be challenges with adopting a rescue dog. The same could be said about bringing any animal home. But one, adopting a full grown dog meant skipping the housetraining and teething phase (a huge bonus). And two, watching Mako grow from the scared, stubborn puppy to the bright, goofy, and still stubborn dog he is today has been so rewarding.
Every time he conquers his fears just a little, every time he nails a new skill, I burst with pride. He is learning the world isn't such a cruel place for a chaotic pup. He can't chase the geese, and is still terrified of cardboard boxes. But he can explore the Ontario wilderness and sleep on a soft bed at night knowing that he's in a safe and loving home.
If I had to do it all over, I'd choose a rescue dog every time.
So if you are looking for a furry friend, consider all the dogs in need of a home. They just need a chance and some love. Adopt, don't shop! A rescue dog can totally fill your heart.