Diving into Sustainability
Swimwear is not inherently bad for the environment. The fabric that swimsuits are traditionally made from however, is. These fabrics include Nylon, Polyester, and Spandex. Common to all of these is that fact that they're synthetic. For those of you less familiar with synthetic fibers, they're essentially a form of plastic. Yes, once again we're dealing with fossil fuels…
There's no denying that plastic offers all kinds of versatility. Not only are synthetic fabrics relatively cheap to produce (financially at least), they can also provide a degree of stretch and breathability. Key attributes when you're looking for swimwear. These materials however, never decompose (at least not on a human timescale). They end up contributing to the multitude of plastic waste that is currently choking up our planet.
The Scourge of Microplastics
These materials are directly adding to the problem of ocean plastic pollution. When washed, synthetic materials release small fibers into the water supply. Many of these fibers obviously end up making their way into the ocean. As a result, they contribute to microplastic pollution that is current wreaking havoc on our oceans. Not-so-fun-fact: washing a single piece of clothing made from synthetic material could release about 1,900 fibers!
Is the answer to stop swimming? No, of course not! There are however more eco-friendly fabric options available. Below, I've highlighted 5 eco-friendly fabrics to consider when contemplating your next swimwear. Although these are pretty cool, it's important to remember that all carry with them a degree of environmental consequences. Having said that, let's dive into the details and explore what's available.
1. Econyl
Econyl is a fabric created from plastic waste! The creation process contains four simple steps. First up, plastic waste is rescued. This includes everything from fishing nets to fabric scraps! Next, the plastic is regenerated into its original form, nylon. Nylon is then turned into yarns to be used for many purposes, including swimwear.
The last step is reimagine. The nylon is woven into new items, with the hope that it will once again enter this cycle when those products reach an end of life. The company estimates that through this process over 70,000 barrels of crude oil are saved and 65,100 tonnes of CO2 eq. emissions are avoided for every 10,000 tons of Econyl made.
It's an interesting and innovative process. Econly is also in line with the circular economy as it encourages the design of products that can be repurposed indefinitely. Unfortunately, the fabric itself is still harmful to the environment. That's because microplastics are still an issue. Indeed, it's a problem that's quite hard to avoid when dealing in repurposed plastics. Is that a reason to not buy Econyl-made products? No! But it is something to be aware of. In the end though, repurposing plastic is better than leaving it as waste to pollute the world forever.
Ghost Gear
Before we move on, let's just take a closer look at the plastic waste Econyl rescues! One of its main sources of plastic is fishing nets and other ghost fishing gear. Healthy Seas, a non-profit closely connected to Econyl, is committed to addressing the ghost gear phenomenon. A whopping 640,000 tons of fishing gear is abandoned in the oceans each year!
This nastiness leads to the death and injuries of countless marine animals.😢 As a result, Healthy Seas focuses on recovering nets from areas that support a diversity of marine life. From there, the waste is collected and used as a main input for Econyl. So when you choose a product made from Econyl, you're essentially supporting the regeneration of the ocean systems.💪 For a full list of brands that use this material, click this link!
2. Amni Soul Eco
This fabric is produced by a company that decided to approach the issues with synthetic fabrics in a different way. Instead of making use of the waste produced, the creators of Amni Soul Eco made a fabric that would not produce any waste. It's a biodegradable fabric that will actually decompose after about five years in a landfill. Rather than simply sitting in a landfill once discarded, these products begin breaking down into organic matter and biogas. This can also be used to generate electricity. How cool is that?!
These gains in environmental-friendly fabrics does not mean that the fabric does not live up to the standards set by synthetics. This fabric is still soft, comfortable, dyeable, breathable, and easy to care for! Even better, this fabric has all the qualities needed to be made into swimwear. What more could you ask for in a fabric?

Don't worry though, the fabric won't start degrading while you wear it! Rather, it only starts to break down under certain conditions. Like when it encounters the bacteria found in landfills. So unless you're trash diving in the landfills, you're good to go.
3. Repreve
Repreve's efforts are quite similar to Econyl. However, instead of focusing on lost fishing gear as a source of plastic, Repreve uses plastic bottles. Americans throw away over 35 billion plastic bottles each year!! Each plastic bottle can take up to 1000 years to degrade. That's a lot of plastic bottles clogging up the earth for a long time.
Clearly, we don't have the time to let nature do its thing on plastic. We need to help things along as best we can, ideally removing plastics from the equation in the first place. In fact there are already a bunch of interesting alternatives to plastic out there! But since we do need to work on removing plastic waste, Repreve offers us a cool solution.
How Does It Work?
They gather up copious amounts plastic bottle waste and send it over to the Repreve Recycling Facility over in Yadkinville, North Carolina (USA). There, bottles are sorted, washed, and chopped up into billions of small flakes.
These flakes are then blended, melted, and eventually turned into Repreve recycled chips. Then, using innovative technology, the chips are strung into the fabric that is used to make new clothing! Unifi, the company that makes Repreve, has repurposed 25 billion plastic bottles through this process!
Click this link to check out some of the brands using Repreve! Remember though, just because they use on sustainable input does not mean their whole process is sustainable. Many of the companies listed still mass produce their goods (still unsustainable). It's also really important to consider how these manufacturers care for the needs and well-being of their employees.
4. Hemp
Did you ever think your swimwear would be a by-product of weed? Well now it can be! Don't get concerned though, there isn't any actual marijuana in the product.
This process is not new, hemp fibre has been used to make clothing for a long time. The cannabis sativa crop grown to produce hemp fabric is fast growing and produces a high yield. The yield is higher than cotton or flax when using the same amount of land. Basically, when a certain cannabis plant is grown, the fibres from the plan can be turned into a fabric.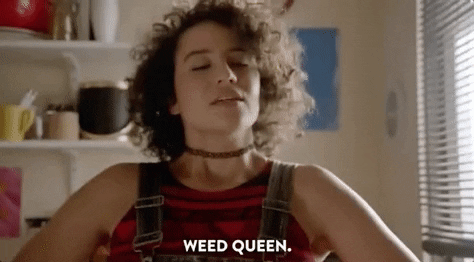 Don't Fear The Weed
Hemp is one of the most eco-friendly fabrics out there! It's naturally grown and for the most part growers are proud to highlight that only organic chemical inputs are used. One of the disadvantages for this fabric however, is that it's not the best at holding colour and can wrinkle or crease easily. But the good news is, it does hold all the water wicking and stretch qualities needed for swimwear. So why not try a natural hemp suit next time you're in need?!
5. Yulex
Last but certainly not least, is Yulex. Fabric made by Yulex is used to create swimwear like Lexcell CC. This neat fabric is actually made from plant-based natural rubber. It's meant to replace the harmful petroleum-based rubber fabrics that currently dominate. What's more, Yulex fabrics are biodegradable, durable, range in firmness, and provide thermal control.
This fabric is a great replacement for Neoprene. It's a fabric found in a lot of wetsuits and other swimwear. Patagonia actually used this fabric to create the first neoprene-free wet suit! Instead of using petroleum as the main input for the fabric, Yulex uses plant inputs to keep their products natural.
Sustainable Swimwear
When talking about fashion, it's worth remembering that the materials going into the product are not the only factor that can make it unsustainable. Fast fashion can be associated with human rights violations, unfair wages, exploitation of workers, as well as environmental concerns. As a result, the fabric that goes into making swimwear is only one element that you should be paying attention to when shopping for more sustainable options.
The Good Trade provides a list of brands producing ethical and eco swimwear. Keep in mind that some of the brands on this list are still mass producing product, which is an issue. As well, a lot of the swimwear is expensive. If you're able to afford these prices, or can cut down on your consumption and just buy one swimsuit for the season, I encourage you to do so. This however, is not realistic for everyone. Even if only buying one item this season, some people may not have the $100 to spend on a swimsuit, and that's totally okay!
Thrifting is a great alternative! You're buying products that have already had a life and are giving them a new purpose. Thread Up has plenty of swimwear options at affordable prices. If you're worried about hygiene issues, you can even filter for suits that still have their original tags on. Just so you know though, there are no actual health risks associated with buying secondhand swimwear. Thrift stores require that products are washed before acquisition, and of course you can also wash them at home before wear.
Just Don't Over Consume
No matter if your swimwear is sustainably made, if you order too many each season, you are contributing to the environmental impact. Overconsumption is a very serious problem, that has very real consequences. So before buying something new, look over what you have. Personally, I've managed to rediscover a new swimsuit each season that I already owned but had forgotten about.

If what you have isn't working for you and you do need to buy, reference this list. Look into what the swimwear is made of as well as the company's ethics. By informing yourself and acting on this knowledge, you're taking a step to save the planet and fight for the rights of your fellow citizens. For more information on sustainable fashion, check out my past article here!