Book Recommendation
The Big Pivot: Radically Practical Strategies for a Hotter, Scarcer, and More Open World
by Andrew S. Winston (2014)
Once again Andrew Winston is back in print (see also Green to Gold)! This time, it's to explain the importance of understanding the present conditions in which we live and operate our businesses.
As Winston describes, the dangers and realities associated with climate change and resource scarcity are already here (see Running Low On Time). Corporations therefore need to respond accordingly, if they wish to remain relevant and profitable.
So Many Challenges & Opportunities
The book breaks down some of the prominent challenges that have arisen with expanded global operations. The challenges are here to stay, and will likely increase. For instance, climate change and business as usual, are literally helping to perpetuate a hotter, scarcer, and world (see also Representative Concentration Pathways- RCPs).
Winston highlights these threats, as well as the increasingly global component of corporate operations as a means of opportunity for change and optimization. He doesn't just leave you with a list of all the problems we'll have to deal with. Rather, Winston provides readers with potential strategic solutions for "pivoting" our organizations.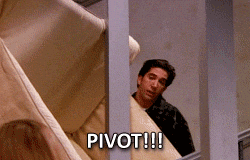 Bring On The Pivot
According to Winston, we should definitely take the proactive approach. Instead of choosing to resist and deny, it makes a lot more sense (and dollars), to embrace reality, plan for it, and act. For those of you already keenly aware of the need to change, then the first part might seem painfully obvious. In the context of corporate operations however, this bears repeating.
Indeed, Winston delivers his message in such a manner, as to speak the language of industry. The Big Pivot addresses the disconnect between industry and the environmental reality. With the gap identified, Winston attempts to reconcile it with solutions that are highly poignant and applicable.
The Winston Effect
Andrew Winston has taught at (and attended), some of the most prestigious business schools in the United States. He is familiar with how corporate management thinks and operates, effectively understanding their concerns.
Winston's book successfully connects with this understanding. It offers a practical framework by which diligent corporations can adopt and implement a sustainability strategy. It's now time to pivot.
---
We encourage our readers to borrow books when they can, but if you choose to purchase a copy, click to order via Amazon, and support this blog in the process.
---