Hurricane Harvey Makes it to America
My family and I spent much of the summer in Texas. It was our first visit to the Lone Star state, as well as our very first encounter with a Tropical Hurricane. We had the opportunity to stay in Austin (state capital) for a few months, and it was quite the experience! The timing also happen to coincide with hurricane season. It had been a few years since any major one had made landfall on the continental USA, and it looked as though Mother Nature was attempting to make up for it.
Hurricane Harvey, which arrived at the end of August, was a Category 5 Storm, and ended up dumping on the state something in the range of 33 trillion gallons of water. Click here if you also have difficulty trying to picture how much water that is. Fortunately for us, the hurricane itself did not make it all the way up to Austin, but it did make for a very wet and enlightening experience.
Lots and Lots of Water
The storm brought with it an immense quantity of water. We're talking copious amounts of water over a very short interval, which ultimately resulted in considerable danger and devastation. In the US, many had just witnessed on tv what Hurricane Irma had done to the Caribbean, and there was certainly a sense of urgency and preparation.
Those who could get out of the storm's impending path did, but the vast majority stayed where they lived and prepared as best they could. The shelves at our local big box stores were heavily stocked with water and emergency supplies, and yours truly and company did what we could to ensure we had what we needed.
Here Comes the Rain Again
Basically it rained for several days straight, with strong winds battering down buildings and knocking around vehicles and structures. The rain carried away what it could, as the rivers in the surrounding areas reached record highs. Once again, the direct correlation with climate change was clearly evident.
We know from simple thermodynamics, that as temperatures increase, this will put forth more water into the atmosphere. Scientists have surmised that for every one degree (C) increase in temperature, there is a corresponding 7 percent increase in the amount of water. Super-storms like Harvey are precisely what the climate scientists have been warning us about.
A Political Feud
Despite the warnings, political action has been tepid at best. At least at a state level. However, cities in Texas have been stepping up to adopt renewables (see Georgetown example). There are also some brilliant organizations that I had the opportunity to discover while there, including: Public Citizen Texas, the Texas Campaign for the Environment, Environment Texas, and the Texas Environmental Justice Advocacy Services (TEJAS).
Texas is absolutely gorgeous! It's no wonder that there are plenty of dedicated people out there, trying to conserve its natural beauty by protecting it from unsustainable policies and poor political leadership. It is however a hard fight. Battle lines in the states are increasing drawn between Red/Blue, Republican & Democrat, regardless of the fact that climate change is scientifically objective and should be a non-partisan issue (see A Fierce Green Fire). My hope is that Texans' love for their home state will eventually translate towards greater sustainability awareness.
Hope for Peace, Love, & Good Music
Before all the heavy rains at the end of our stay, my son and I did a lot of exploring. What we discovered together was that most people we met were really quite sweet and reflective of the southern hospitality we so often heard about. Of course, there are certain apprehensions as a Canadian visiting the US, particularly Texas, when it comes to the proliferation of firearms.
Thankfully, guns are strongly regulated in Canada, so it's certainly surprising to see some walking around openly carrying a firearm to go to the grocery store. And yes, there were a number of shootings across the state in the short time we were there, but we hardly saw any gun-toting citizens out in Austin.
A Special Kind of Place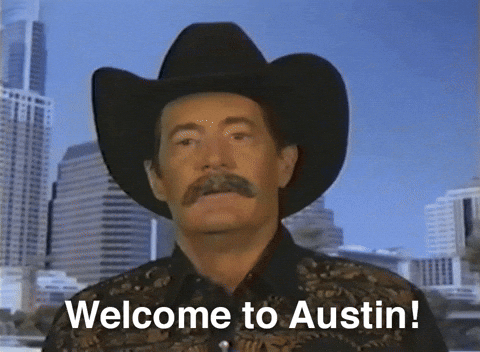 Austin really is a special case! It was seen as a kind of hippie town, different from the rest of the state. There are still some cowboys to be sure, but more of the liberal pot-smoking kind. Over time, as a result of its uniqueness within Texas, more and more people decided to move there. The influx has been transforming it into one the fastest growing cities in the US for several years now. Despite the rapid changes however, Austinites are still dedicated to keeping it weird.
Strangeness aside, its natural environment also has a lot to offer. The urban area's proximity to nature is certainly attractive to those who appreciate the outdoors. In addition, its growing tech sector (dubbed the Silicon Hills), provides flexible opportunities for those who want to maintain their work-life balance. There are those that refer to Austin as a little slice of California in Texas, but it remains unmistakable Texan.
Waterloo aka River City
Part of what makes Austin and the surrounding countryside so desirable is the abundance of water. The city itself borders the eastern region of an area know as the Texas Hill Country, a luscious geographical zone known for its granite and limestone hills, and its multitude of flowing streams.
Indeed, there is so much water flowing nearby that Austin was originally called Waterloo. It wasn't until the city was purchased by the Republic of Texas that is was renamed Austin, after Stephen F. Austin, aka the "Father of Texas."
Bubbles in My Beer
In short, the city's history is closely intertwined with its relationship to water. I personally think it still is. The water provides Austin and the surrounding area with a generous supply with which to source its many delicious craft beers (Austin is considered a craft beer powerhouse). It also offers plenty of sweet spots to cool off with dip or maybe try out paddle-boarding (its a popular activity there).
It being Texas, summers do get scorching hot! So the nearby water system of lakes and and rivers are all the more welcome. As an added bonus, it also provides plenty of opportunity for family fun activities. Aside from the hurricanes then, the collection of nearby springs offers yet another way of getting soaked during a Texan summer.
Soak It In For Yourself
My family and I were fortunate in our experience, and charmed by our discoveries. Austin is remarkable for it's food, abundance of live music, wonderful craft beers, and gorgeous countryside. Ultimately though, my wife and I agreed that it was the people there that constituted the best part of our stay. I realize how cheesy that may sound as I write it, but it's sincere. We were pleasantly surprised by how friendly and hospitable every one was, and it totally enhanced our stay.
A Remarkable Experience
Although our summer ended with one of the most massive storms ever recorded, it did not dampen our impressions. We had a really nice time there, and hope that more people will recognize the need for sustainable practices and work to protect the natural beauty and social treasures that make up the Texas state.
I would definitely encourage you to visit, if and when you can! Keep in mind that hurricane season kicks off in June and Texas is known to flood (as described by local icon Stevie Ray Vaughan below). In time, hopefully we can come together before climate disasters strike and work to reduce our impact on climate change's fearsome acceleration.
The Legendary SRV – Texas Flood