Cutting Down A Tree For A Holiday? – No Thanks
For the longest time, I believed that by not using a real Christmas tree at home, I was protecting the planet by reusing my artificial one. Although it certainly seemed cool to have a real tree for the holidays, I couldn't wrap my head around cutting down a tree just for decoration.
I recently learned from a friend that he and his family bought real trees every year. He told me that it was better for the environment, but I wasn't convinced. If you're removing a tree from its natural place, how can that not be harmful? I decided to investigate further. Which was really the more sustainable Christmas tree, real or artificial?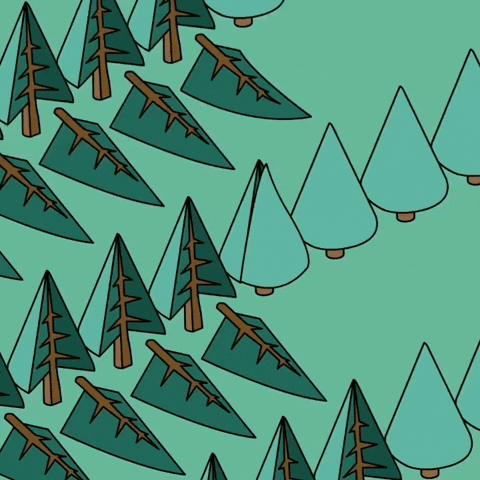 On A Mission
There are plenty of local farms in my area where I could purchase a tree for the holidays, but I had never actually visited any. So I decided to fix that with a trip to one. While it was a nice experience, I still wasn't convinced.
Despite that fact that these trees were grown locally, and potentially to that purpose, I also figured that they would probably end up in the waste after the holidays (Tree Disposal Tips). As a result, I decided to stick with my fake tree. But I also wanted to keep exploring the issue!
Artificial Trees: The Facts
The fake Christmas tree is currently the more popular choice. In fact, Canadians are spending almost $60 million importing fake trees from China every year. Producing and transporting these trees around the world causes high levels of harmful greenhouse gas emissions. In addition, these trees can be near impossible to recycle (especially after they are dumped in landfills).
The real way to reduce your environmental footprint with your artificial Christmas tree is to get at least five to nine years use out of it. However, in the end, it'll still end up in the landfill and ultimately harm the environment.
Choosing A Cut Tree
For the vast majority of us, deciding on a real Christmas tree doesn't mean going to a forest and just chopping one down. We get them from tree farms. Trees farms have been around for a long time now, and they work year-round on helping to maintain the trees healthy. As an added bonus, even tree lots/farms are also providing clean air and habitats for wildlife. And finally, at the end of its cycle (after the trees have been cultivated and potentially returned), they can provide for compost and nutrients. Cut trees can also be recycled and used towards conservation and habitat revival projects.
If you decide to purchase a real Christmas tree, chances are farmers will also plant a replacement in its place. That way, not only are you supporting local farms, but also expanding the forest and maintaining its health for years to come. Seems like a solid case for the real deal!
The Third Option: Potted Trees
Opting for a potted Christmas tree is another sweet alternative option! It essentially circumvents the debate of having to choose between killing a tree or purchasing an artificial one. Although this might represent more of an upfront cost, it's obviously more of a long-term option. You'll also need help getting it in and out of the house for the holidays, if you don't actually want to keep the tree in your home year round.
Strapped for cash? It's actually possible to rent one! There are a number of providers that'll even go on to replant it! Renting might also prove the better choice if maintaining a full-size, real tree seems like it'll be too much work for you. To make it easier, you can also simply leave it outside. My aunt kept a potted pine in the middle of her backyard. During the holidays she'd add lights and ornaments, making it feel super christmasy.
Indeed, holiday decorations are effective in transforming pretty much any tree or plant! For the creative types, you might want to consider other plant options like a Rosemary Tree, a Lemon Cypress, or a Norfolk Island Pine. I've even seen a Christmas cactus tree (saguaro)!! With lights & decor it certainly looked festive.🌶️🌵🥳
Changing It Up For 2020
So what is the better option? You can feel less guilty about your artificial tree, if you hang on to it long enough. Cut tress aren't actually that bad, especially if you pick one up from a local farm that grew it for that purpose. Ultimately however, simply buying or renting a living tree is the way to go! So if you're still in the market for a Christmas tree this year, try going for a live one!!
Not only is choosing to buy a living tree the more sustainable option, it also helps to support local farms and businesses (especially during this difficult covid-19 pandemic). Christmas after all, is about giving, and being together (even virtually) with your family and friends, and less about the tree.
Editing by Marc-Antoni Tarondo