Mama Knows Best
Climate change is already happening and we need to take action. To that effect, motivated moms from across Canada are banding together to advocate for a better future for our children. There really are so many inspiring people and organizations out there doing great work! With that, I want to take a closer look at one, but this will definitely be the first of a series covering the incredible initiatives done by climate moms.
For Our Kids represents one such amazing network. They're a group of Canadian parents keen on taking action to mitigate the climate crisis.
I recently had the pleasure of talking with one of their members. An awesome and inspirational climate mom by the name of Jennifer Moreau. She also happens to be the founder of New Westminster (BC) branch of Babies for Climate Action. We had a great talk that proved to be an enlightening and emotional experience.
How a B.C. Mom Launched a Climate Campaign
Jennifer has a 2 year old son and she knows the importance of protecting him. That definitely translates to climate change. She trusts the science, and understood the importance of the issue. But when she learned just how menacing the threat actually was, she became terrified!
She knew she needed to do something. Prior to looking into it herself, Jennifer hadn't fully realized the urgency. She does now. "We really only have ten years," she thought and, "my son won't be old enough to do anything about it!" As one of countless concerned moms, Jennifer decided it was on her to take action on his behalf.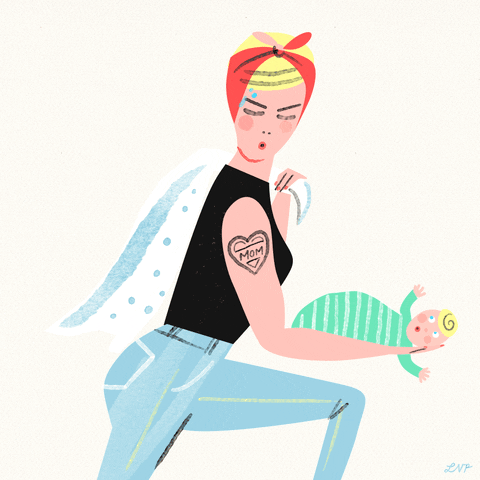 Moms Vs. Climate Change
And act she did! Jennifer did some preliminary research, but couldn't find any groups that were family-friendly. "There were no groups doing things that I wouldn't have to worry about getting arrested for," Jennifer said in our interview.
So she took some small steps at first. She posted on a New Westminster mother's Facebook group, asking if anyone else felt the eco-anxiety she did. With that, Jennifer already got some responses, and from there, planned a meeting. Four moms showed up. Suddenly, she had started something.
Jennifer and the other moms worked together to send a strong message to the council members of New Westminster. And they did it in the most adorable way they could imagine!
Below is our interview, where I learned from Jennifer first hand just how Babies Storming City Hall was born!
How did you come to the decision to approach City Hall?
"One of the Moms mentioned that City Council was soon to debate their Climate Action Plan. We wanted to disrupt- to show them whose future is at stake if we do nothing. We put blankets, snacks and toys on the floor for our babies and took turns speaking as delegates of our concerns about climate change. Before arriving, we were nervous, but Council Members seemed really happy to have the babies there!"
Were there any obstacles in planning the action?
"Well, it's pretty amazing, because we were doing this around our babies and work schedules. During naps, on our breaks at work, when they're in bed for the night, while they're eating, all of it. It's remarkable that we were all fitting it in! When we start doing something like this we treat it like any other work, but then you see what you are actually doing. And even if you don't feel like you are making any difference, you have to keep doing it."
Have you seen any new commitments or other results since September?
"We got in the local paper, and other media picked it up too. The movement spread! We started getting calls from parents in other cities in the lower mainland. There is now a Babies for Climate Action Vancouver, Babies for Climate Action North Shore, and other cities. Some have different names but similar goals. Now we are all talking between groups and cross promoting. We have momentum!
The pandemic was scary at first, we thought we might lose momentum, but it forced us to communicate differently. Now we contact politicians with letters, host online meetings with MPs and MLAs, have expert guest speakers. . . And it has been effective!"
Do you have any plans brewing for future actions?
"We're working on a campaign to "aggressively improve" the Canadian Net-Zero Emissions Accountability Act, also know as Bill C-12. They're reviewing it right now! Deciding on what amendments and other stuff to apply. This is our last chance to change it. So we're lobbying MPs to change the Bill- make changes that will actually prevent disastrous climate change, urging them to follow IPCC recommendations, instead of failing to meet them."
The Power of Moms
Speaking with Jennifer was enormously inspiring. I'm a mother, as you may have discovered in my last article. It easy for me to say, "I don't have time to help right now, but I will when things slow down."
Jennifer however said something different. Which led her to do something. That in turn led to making change. And it seems her efforts have led to personal gains, too. She found a network of like-minded parents who can support her in making change. If that doesn't help relieve eco-anxiety, I don't know what will!
"There is not one day that I'm involved in this activism that I don't cry. How can we protect our children from climate change? Having a baby during a climate crisis is a hopeful thing. Terrifying, but hopeful.

It helps us understand the foundational role of protecting your children. It connects you to the value of not just your life, or your child's life, but all lives. And that's what this is all about. That's why I'm doing it."

-Jennifer Moreau
Do What You Can
Listening to Jennifer actually made me cry! It certainly encouraged me to take action! If you would also like to join a For Our Kids group in your area, or start one of your own, check out these links! You can also try contacting galen@forourkids.ca.
However much you're willing to involve yourself, your action can make a difference. So why not go ahead and join with other climate moms! The future needs your support!
Editing by Megan Fuller & Marc-Antoni Tarondo.