The Global Climate Strike
Once again concerned citizens have come out into the streets in the thousands and millions, as the public awakens to the looming threat of climate change.
What first began as an individual student strike in Sweden (from a motivated and deeply caring teenager), has since evolved into a full blown international movement. Clearly, there have been environmental marches and protests before. However, since the emergence of Greta Thunberg on the world stage, global youth have rallied to her call (see also Fighting for the Future). Political leaders have a responsibility to their citizens as well as the future, and can be pressured into taking action on climate change.
Climate Strike: Japan's Take
Despite the huge numbers globally, unfortunately this type of political activism is not as apparent here in Japan. That's not to say it wasn't historically, or that it can't be there again, but simply an observation of current circumstances. Japan has been hit hard the past several years by record-breaking rainfall, massive and frequent typhoons, and scorching heatwaves. Still, climate change isn't a common topic.
Although, we are definitely feeling the effects of climate change here on these islands, the media makes little mention of it. There is a considerable failure to explain the connection between these extreme weather events, and rise in global temperatures as a result of dramatic deforestation and the burning of fossil fuels. Obviously, this needs to change.
A Turning Point
We are however beginning to witness a change in awareness. Despite being off to a slow start, I have substantial confidence in the people of this country and tremendous respect for the capacity of the Japanese once they eventually switch on to this problem (see also Oceanic Duty). Already, there has been a significant increase in turnout from the last Tokyo Climate March.
This time round, we gathered before the United Nations University, located in Tokyo's bustling Shibuya ward. The meetup was scheduled for 4 – 5pm, with the intention of stepping off for 5:30pm. It was a later start than most other countries, but as we're in the first timezones to begin the 20th of September, early evening made sense to come out and have our collective voices heard.
Bigger Numbers
As the crowds gathered, it was immediately apparently that we had more people coming together than in May. It being Japan, everything was very orderly, organized, and respectful. With numbers amassing before the institutions main square, we were divided into groups and pockets, to be slowly released into the beating hub of downtown Tokyo.
An Energizing Experience
The Japan Times put our numbers at nearly 3,000 (Climate Activists Join the Global Climate Strike), although it certainly felt greater than that. Once again, it was a predominantly internationalized crowd. This means plenty of foreigners, expats, children of mixed ethnicity, and foreign-educated (English speaking) Japanese. The overwhelmingly native population was sorely lacking.
This is due in large part to the significant media manipulation and outright censorship (surprisingly) present in this country. As a result, most Japanese are left painfully unaware of the gravity of the climate crisis. They might be lucky enough to know some of the terms (moreso if they speak some English), but the majority are left intentionally ignorant of the impact of climate change on their lives and future. This forced control on public awareness is very real and extremely disconcerting.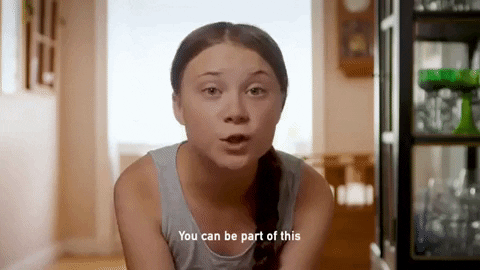 We Shall Overcome
It is however, something that can be overcome. The proliferation of the climate message across the internet and the international media is slowly perforating the Japanese bubble. This was evidenced through the considerably larger turnout, with even more native Japanese represented in the crowds on September 20th.
We are making headway! As the world wakes up to the imminent threat of climate change, the Japanese (especially the youth) will mobilize in response. It is simply a matter of time. Unfortunately, when it comes to carbon emissions, that is something we're remarkably short on. Thankfully, the massive global turnouts and increased attention is having an effect. Together, we can make a difference in changing the political discourse!
The Global Perspective