Mobilizing for Climate Action
All over the world people are becoming increasingly aware of the need for activism in the face of climate change. We keep hearing from the scientists that we are running low on time! Carbon emissions need to be cut down quickly and dramatically! If not, then we risk the increasing threat of climate destabilization, and the capacity to curb it will fall out of our hands!
Instead of taking action, governments and corporations have largely been carrying on with business as usual. As result, concern for climate change is already propagating greater civil activism. More people are mobilizing as they witness firsthand the environmental changes taking place. The planet is clearly heating up and we know that humans are the cause.
Thankfully, humans can also provide the solutions! In fact, there are already plenty of climate solutions available (check out Project Drawdown). There doesn't appear to be a shortage in that regard. Rather, what we need is urgent & significant climate action. Therein lies the greatest challenge. How do we go about changing the status quo? History has shown us that it will require mass mobilization. Climate activism is therefore key to this sustainable transformation.
The Movement is Growing
Those running many of the countries and companies that are most responsible for greenhouse gas emissions, deforestation, and industrial pollution, also happen to be the very same that are benefiting the most from such operations.
It will therefore take considerable social activism and public support to move things in a more sustainable direction. There is some good news though! The movement is already underway. Just last month, I shared with you some cool environmental organizations. This time round, I will explore several grassroots organizations that are currently fighting for the future.
---
Youth Activism
It is especially inspiring to see so many youth-based organizations taking shape and actively participating in the political discourse. The activism comes from a deep concern for their future, the environment, and government's inability to seriously confront climate change (see also Defend Your World).
These movements are springing up all around the world. Motivated by commonly held beliefs, and a desire for better, they are in turn supported by the climate activism that is taking place around the world. In the US for instance, there's the Sunrise Movement (pictured above) currently gaining ground.
With local chapters in cities across the country, the Sunrise Movement has been building momentum. These youth activists are resolved to unify and engage with fellow members of their generation. Their goal is to help break the country's fossil fuel dependency. They represent an amazing example of youth climate activism!
Sunrise in Washington, D.C.
The Sunrise Movement recently gained greater media attention for showing up at the office of House Minority Leader, Nancy Pelosi. The Democratic Party's freshly minted congressional victory in the US Midterm Elections presents an opportunity for change. As a result, The Sunrise Movement are calling upon Ms. Pelosi to introduce more substantial climate legislation.
They have already gained the support of newly elected NY Rep. Alexandria Ocasio-Cortez (AOC), who joined them at the sit in. There, AOC discussed the prospect of a Green New Deal for Americans. It's a plan to address the climate crisis through significant and encompassing government action. Pelosi has yet to respond with anything substantial.
---
Fighting for Life Itself
Across the Atlantic, Extinction Rebellion represents yet another organization that has been making the news for its climate activism. They are now sounding the alarm all over the UK, and beyond. The message is a simple one, human beings are causing a global scale mass extinction. Rebellers are impassioned people of all ages taking action with the belief that we can do better.
These activists have been regularly disrupting London traffic with their message. They also periodically descend upon the British Parliament demanding elected leaders to greater climate action (see Desmog UK). Extinction Rebellion has since become a global phenomenon.
Rebelling Against Ecological Collapse
As described by Extinction Rebellion's co-founder Roger Hallam, civil disobedience is demanded of concerned citizens. Those who are aware of the climate crisis need to exercise their duty and rise up. Hallam explains that activism has worked in the past and it can again. It will however require greater social involvement to generate enough public pressure to change the current political power structure. More voices need to be heard. Surely the impending environmental demise is worth the effort?
Kicking It Up A Notch
For those in the environmental movement, greater activism is clearly mandated. Governments are simply not doing what they were elected to do ( ie. looking out for the long-term interests of society). Rather, they appear more concerned with their own personal ambitions or that of those that helped finance their elections.
As one recently arrested 85-year-old Canadian grandmother and (oil) pipeline protestor put it, "Facing 14 days in jail frightens me, but a climate catastrophe frightens me more," (Joanne Manley). More needs to be done, and quickly.
---
Teenage Inspiration
In Northern Europe, 15-year-old Greta Thunberg has been periodically missing school (since August) to protest before the Swedish government. She felt compelled towards activism. Indeed, Greta questioned the point of learning about science and math, if those running the country couldn't adhere to the facts of climate change (see Cutting Class for Climate Change).
Clearly more needs to be done to address the climate crisis! Greta for one took it upon herself to take a stand for the environment. Despite criticism from her teachers and some politicians, she continues protesting. As she explains, "I don't care if I get into trouble at school. I believe that one person can make a difference" (linked article above). You're welcome to explore FridaysForFuture for more details on the recurring strike.
Video from Greenpeace International
A Powerful Request
Greta's words are heartfelt and cut straight to the point. Lawmakers, the media, and adults in general are holding her future and that of all future children, in their hands.
We really need to acknowledge the crisis with the gravity it deserves. In that regard, Greta is walking the talk! She has been hard at work communicating her message, and her actions are already bearing fruit.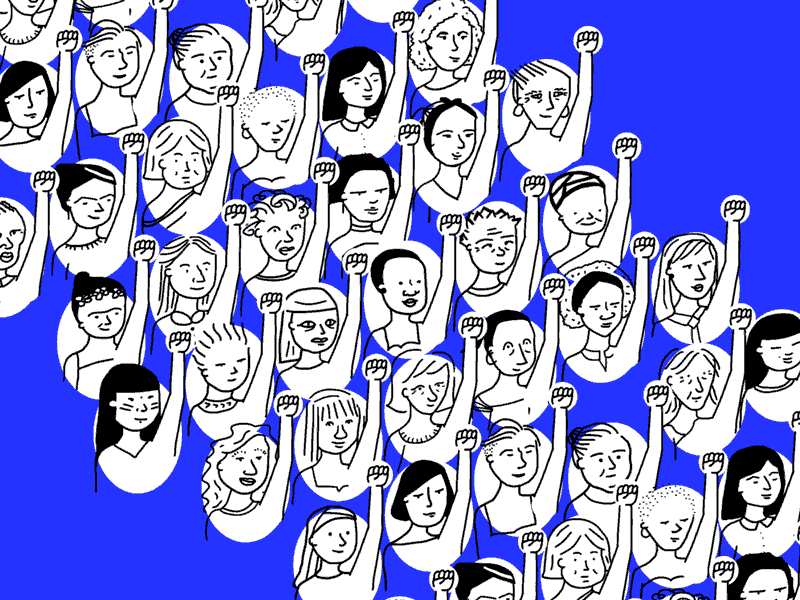 Generating Momentum
The Swedish teenager has helped get climate change greater attention in her own country and beyond. The above video, was taken as she was speaking before an enormous crowd in Helsinki. It turned out to be Finland's largest ever Climate March and led to even more discussion of the climate crisis.
As a result of her actions, Greta is proving her own words. One person can make a difference. It has been amazing to witness the impact!
---
From the Land Down Under
Australian students are also following Greta's lead. They too are fed up with their government's inaction over climate change. Although they are not yet old enough to vote, they will be the ones to inherit much of the mess that will result from global warming.
They kicked off School Strike 4 Climate Action, a country-wide movement demanding that the Australian government reflect the interests of the future. In response to the Australian Prime Minister's criticism of their activism, one student explained, "We're taught about how amazing this planet is and how important it is that we look after the environment, but he won't let us do anything about it," (Sydney Morning Herald).
A Message From the Kids
Well, it turns out that there are plenty kids that want to do something about it! On November 28th, students from all over the country are walking out of school in protest for the environment (The Guardian). They want parliament to take emergency action. These youth activists will continue to hold protests until their government recognizes the very serious danger posed by human-derived climate change.
---
Holding Out Hope
Watching so many young people take up climate activism is amazing! It certainly helps keep me hopeful. If people continue to turn up in such numbers, it will inevitably force governments to respond. These inspirational activists are helping generate the political will that is so desperately needed. In so doing, we can succeed in implementing the changes needed to avoid further catastrophic warming.
It's tough! No doubt about it. It's crazy difficult to change the status quo. It has happened before, and it can happen again. It's certainly worth the struggle and we really no longer have a choice. Society needs to adapt, and operate in such a way as to live within the limitations of our environment.
It's either that, or we will find ourselves going the way of the dinosaurs that we are currently burning for fuel. We can and must do better! I'm sincerely and totally grateful to all these young activists. They are quite literally fighting for the future, and I commend them for it.